Irresistible and awarded our maximum "Love Handle" rating: "Crêpes Marinero". It is a perfect composition of Philadelphia with smoked salmon and king prawns. It tasted so good during our visit in October. Robert had to try his hand at it. Here is his style: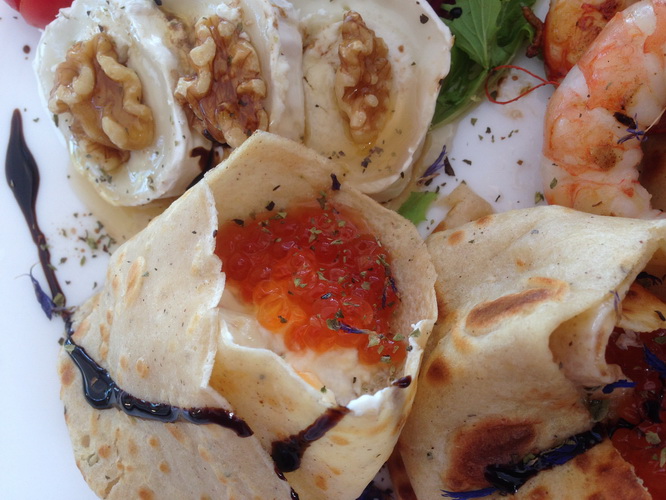 For the crepes:
75g butter 380 g flour 750 g milk 6 eggs ¾ teaspoon salt
For the filling:
Cream cheese (Philadelphia), 2 bowls: once low-cal, one full fat Cooked shrimps, 2 bowls Smoked salmon 400g Dill
For the seafood salad:
Makes approx 8-10 as appetizer 1/2 kg boiled seafood mix in oil (ready-made if needed) 10 cherry tomatoes 1 lettuce heart 20 olives 5 pepperoni, mild and crisp 1 red onion, coarsely chopped Olive oil Parsley Lemon Salt, pepper
Crêpes:
Add warm butter, flour, milk, eggs and salt in the blender and mix until lump-free. Let it rest for one hour to allow the flour to rise. Fry the thin crêpes in a pan. Turn them over when the dough begins to form bubbles. The amount above results in about 12-14 pancakes. A few left over can be smeared with jam or Nutella to bribe the children into obedience. Now mix use your magic wand to mix the cream cheese and a piece of salmon. Fold in the dill and spread the mix onto the crepes.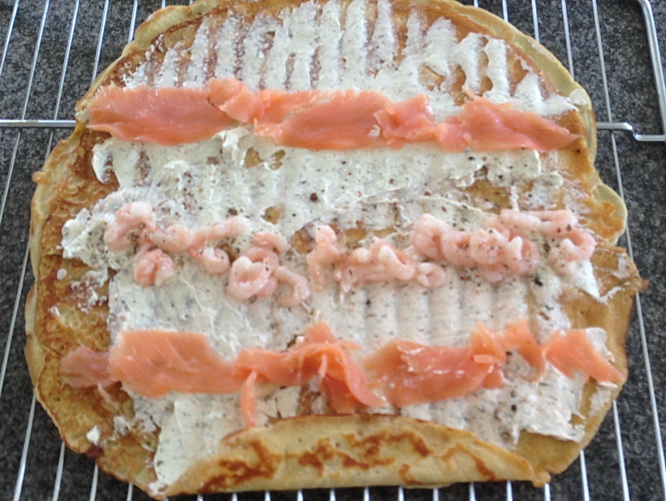 As shown in the photo with salmon and crab, then wrap them in plastic wrap, so the crêpes retain their shape.

Now let them rest for about 4 hours in the refrigerator.
Seafood salad:
Wash the ingredients and remove any excess oil, then drain well and pat dry with kitchen paper towels. Cut the lettuce heart, tomatoes, pepperoni and red onion into pieces. Then mix them together with a good extra virgin olive oil and season with salt and pepper. Important: Drizzle a fresh bit of olive oil on it when serving! Cut the cooled crêpes into finger-thick slices and add them to the salad. Time to eat!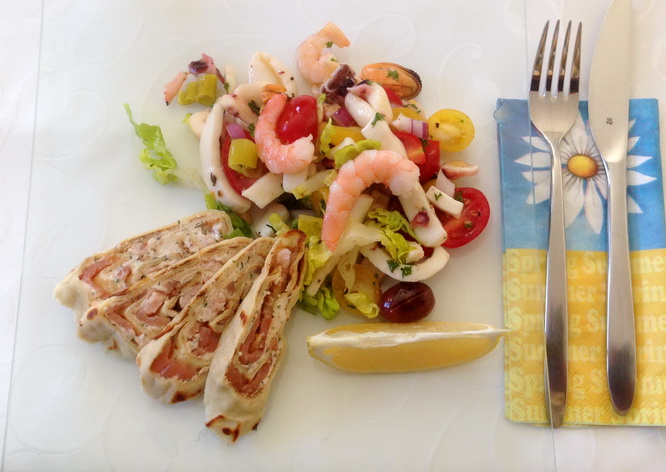 Option 2: The main course with side salad as in Pepes' Bar.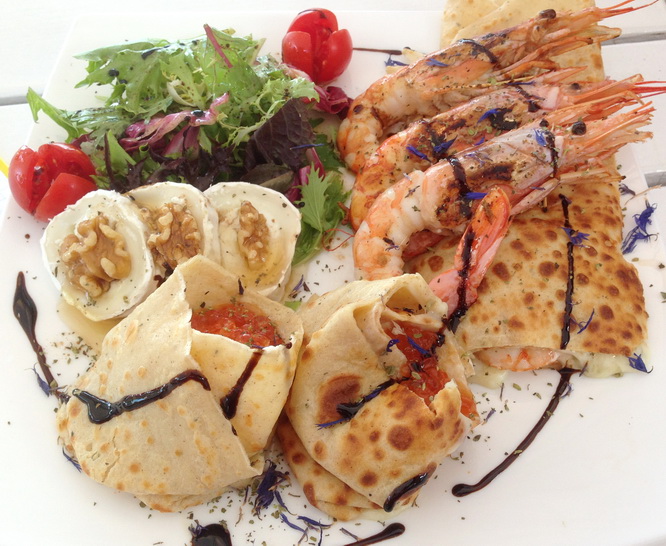 In addition to the fully filled crêpe (which can be at room temperature), another crêpe is spread filled with the Philadelphia mixture whereby the middle third remains free. The loosely rolled pancake is then cut in half and placed upright. The bag which thus results will is then filled with a little salmon caviar (pictured below). Warm goat cheese with walnuts is an extremely good complement (pictured above). Three large shrimp are fried fresh in the pan placed warm on the crêpes. The balsamic cream adds adds a personal touch and completes the dish optically. The lettuce also brings a crisp feeling and the necessary acid with its vinegar. Seafood is not absolutely necessary with this, since there is already an abundance of taste in and on the crepes.